Consider animal adoption at Godbey Creek Canine Rescue when welcoming a new dog into your family.
Welcoming a new dog into your family is an exciting adventure, but may also seem a bit overwhelming. You might not have considered animal adoption because you aren't sure how to select the right animal that will fit perfectly into your family. Here at Godbey Creek Canine Rescue, we take the time to match the right pet with the right owner in the right environment for a happy and successful adoption adventure.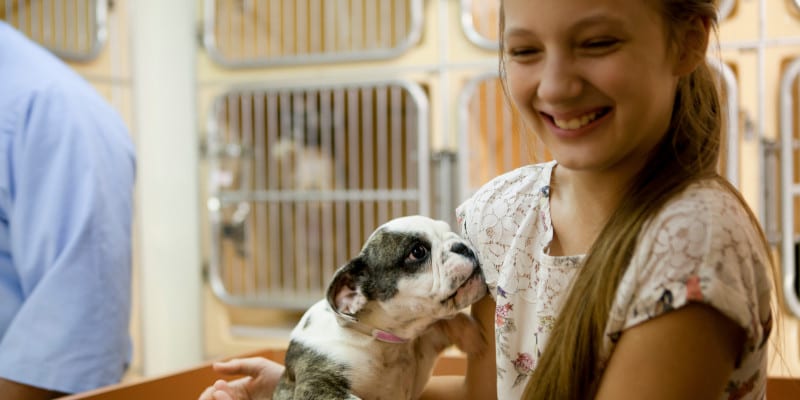 We spend roughly 30 days learning about our rescue pets and preparing them to be a welcome addition in their forever home. Our adoption also includes spay/neuter, vaccinations, microchipping, deworming, and making sure each pet is up to date on flea/tick and heartworm prevention. We also basic leash, crate, and house train each dog, so they are prepared for a smooth transition into a forever home.
5 Great Reasons to Consider Animal Adoption
Did you know that just under 70% of the households in the U.S. have some kind of pet? Having a pet in your life is something that most of us would like to have someday . . . or even sooner than someday! Having a furry friend has been shown to add years to your life, decrease depression and anxiety, and provide many other advantages. If you are looking to add a four-legged friend to your family, here are a few great reasons why you should consider adoption over buying your next pet.
Adoption Saves Lives. So many pets are euthanized every year because shelters don't have enough room for them. These are healthy, active animals who would make great companions! Animal adoption literally saves lives.
Less Expensive. When you adopt an animal, they often, if not always, come with their vaccinations, spay/neutering done, and are even microchipped. The adoption fees are also affordable for most people.
More Choices than You Think. Animal adoption isn't just mixed breeds and adult animals. Many shelters have purebreds, as well as puppies and kittens.
Great Animals. Animals at shelters are often housebroken already, and some know tricks. They are evaluated for all sorts of situations, helping you to better find an animal with a personality that will fit right into your family.
Help Pet Overpopulation. When you choose animal adoption, you are choosing an animal that has been spayed/neutered, helping to prevent overpopulation in animals and unwanted litters.
Here at Godbey Creek Canine Rescue, we would love to help you find the right animal for your family. Please consider animal adoption and stop by to see our great, adoptable pets today!
If you are considering animal adoption and want to make sure you and your new pet are the perfect match, we welcome you to try our foster-to-adopt program prior to animal adoption. We have many dogs still searching for their forever home in Clemmons, North Carolina.
If you would like to know more about how our animal adoption process works, don't hesitate to contact us. We also welcome volunteers and offer dog boarding.
---
At Godbey Creek Canine Rescue, we offer animal adoption opportunities for residents of Mocksville, Advance, Clemmons, Mooresville, Statesville, and Winston-Salem, North Carolina.
Similar Services we Offer: