We work with you to ensure your pet adoption is a success.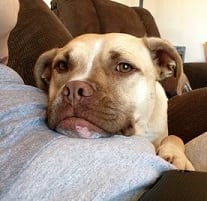 Adopting the right rescue dog is an incredible, exciting and joyous experience. At Godbey Creek Canine Rescue, we take special care to provide our shelter pets a safe, supportive, rehabilitative environment that readies them for their new home.
Our Process
When you adopt a pet with us, you'll know that their immediate medical needs have been met and the pet's behavior has been assessed, so your new pet is equipped to be integrated into your home environment. While we cannot possibly understand all of a pet's needs, we strive to learn as much as we can. We also offer programs that allow you to foster-to-adopt, so you can be sure you've found the perfect forever companion before making a commitment.
Reasons to Adopt
Adopting a pet can be a very rewarding experience! There are many reasons to follow through with the adoption process at our rescue, including the following:
There is nothing like the constant companionship of a dog! Dogs are pack animals, so they want to be part of your family.
We do our best to match the best dog possible to your needs. We realize that, like people, dogs have different personalities. The right dog for your home is out there!
While puppies are cute, adopting an older dog can be a good option if you prefer a dog with less energy or a dog with certain traits.
If you have kids, taking care of a dog can teach them lessons about responsibility and caring for another living thing.
Our vision is to protect the pets who come to our rescue and help them find a safe, loving home environment where they will thrive. Make sure that before you come visit our rescue, you are ready to commit to providing a loving home to an animal that genuinely needs you.
We make the adoption process simple and rewarding. We promise never to rush you through adopting a pet and to inform you of all your options before you get started. We want to help you find a great dog just as much as you want to bring a new furry friend into your home!
---
At Godbey Creek Canine Rescue, we serve residents of Mocksville, Advance, Clemmons, Mooresville, Statesville, and Winston-Salem, North Carolina.
Similar Services we Offer: