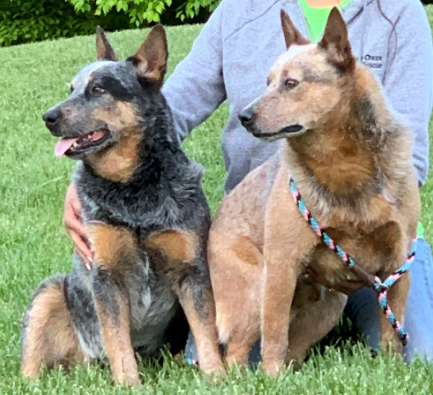 It is such a joy when a family wants to adopt a rescue dog and they are able to be matched with a dog that needs them as much as they need a furry addition to their family. At Godbey Creek Canine Rescue in Mocksville, North Carolina, we love sharing success stories about the dogs we are able to find forever homes for and the people who welcome them into their family. One of our happiest stories involves Diesel and Axel.
Diesel and Axel, two handsome, deaf, five-year-old Australian Cattle Dog (ACD) siblings, have been together since birth. Diesel is very dependent on Axel, and both have gone to the perfect home and the perfect family! Finding just the right home for these two was "meant to be" when these wonderful and loving pets went to their new family.
Axel and Diesel play safely and happily at their new home in a fenced-in, five-acre farm that they enjoy with other members of the farm and, of course, their new human family. True to form, these fellows are bonding tightly with their new family. They help herd the goats, when needed. They also seem to greatly enjoy the swimming pool and resting on their large, screened-in porch overlooking the farm. We are especially happy for them that they were able to be placed together through our rescue dog adoption process so they can continue with their strong bond and support of one another.
Congratulations to Axel & Diesel on your new home, and thank you to their very special family for giving them exactly what they need to thrive! We couldn't be happier for all of you! If you would like to be a part of the next success story and adopt a rescue dog that will enrich your life, don't hesitate to reach out to us to learn about our adoption process.