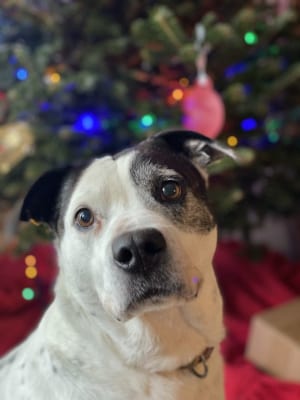 Here at Godbey Creek Canine Rescue, we are always filled with emotions when we are able to see one of our rescues go home with their forever family! While we are a little sad to say goodbye, we are overjoyed when we are able to see our furry friend bond with their new humans. Adopting a rescue dog can be a great way to create, add to, or complete your family.
Not every dog is able to come to us in good health or good condition, and one of our recent dogs, Freckles, was no different! Neglected and ignored, poor Freckles had fleas that had caused an unsightly and uncomfortable skin condition. In addition to her skin, Freckles was not a younger dog, which meant some people might automatically discount her for adoption. With our diligent medical care and attention, Freckles was able to heal from her physical and mental trauma, blossoming into a happy, delightful dog that made friends with all sorts of creatures, both four- and two-legged!
Just in time for Christmas, our Freckles was adopted by a wonderful family who saw that this sweet girl is the perfect addition to their family. Freckles now joins her human family as well as a canine sibling and is reported to be adjusting beautifully to her new digs. We are so glad that she and her family are a testament to how dramatically and wonderfully your life can change when you consider adopting a rescue dog. If you are thinking of adopting a rescue dog, please let us know what questions we can answer for you today.