We have matched more than 600 dogs to their forever homes since 2013, thanks to the help of our community through dog donations.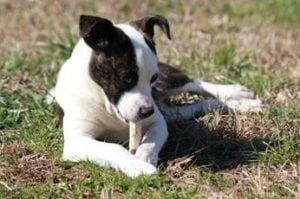 One of the reasons we are able to provide the valuable dog adoption services for the Mocksville, North Carolina area that we offer here at Godbey Creek Canine Rescue is the support we get from the community. We are grateful to so many of our neighbors for their help over the years. When you volunteer your time, donate supplies, or foster a dog, you become a part of something wonderful – a way for rescue dogs to reach the ideal forever home that enriches the lives of both them and their new family.
When you make a dog donation for the benefit of our rescued dogs, either a monetary one or sharing of your time, you enable us to accept more dog rescues. Since 2013, we have successfully brought over 600 dogs and their families together, and we thank you for being a part of that.
If you would like to make a monetary dog donation through PayPal, you'll find a helpful link here. You'll also find a list of the supplies you can purchase and donate through "Gifts in Kind," as well as a link to take part in the Kuranda ShelterBeds Program and our wish list on Amazon. If you have another way in which you would like to help, don't hesitate to contact us to discuss it.
Of course, another way to help is by going through our adoption process to welcome a new dog into your family. We spend roughly 30 days with each rescue dog, so they are ready to join your household for a seamless and stress-free transition. Contact us today to learn more about dog donation and our adoption process.
---
At Godbey Creek Canine Rescue, we facilitate dog donations for residents of Mocksville, Advance, Clemmons, Mooresville, Statesville, and Winston-Salem, North Carolina.