If your dog has difficulty being home alone during the day, our doggy daycare is the perfect solution.
You are sitting at work and you get a call from a neighbor to tell you that your dog is frantically barking. You come home to find that your dog has misbehaved by chewing up your sofa pillows again. Your boss is not happy that you have to head home once or twice a day to let your dog outside. Sound like a familiar problem? Some dogs are better at being alone than others, and if you happen to have one that suffers from separation anxiety, there is a solution. At Godbey Creek Canine Rescue, we offer doggy daycare at our new boarding kennel.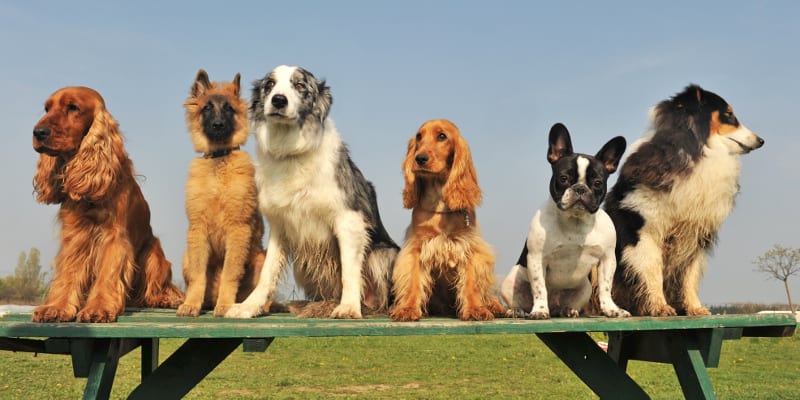 If you have looked into doggy daycare before and had to reluctantly decline because it ranked up with child care in terms of cost, you'll be happy to know that our doggy daycare is just $21 per day, which includes several different play times in a spacious doggie pasture. Your dog will get the exercise they need and enjoy social interaction that will make them more at ease with you being away for the day.
5 Key Benefits of Doggy Daycare
At Godbey Creek Canine Rescue, we understand that many dogs do not do well if left home alone during the day while your family is at work, school, and other engagements. Our doggy daycare in Mocksville, North Carolina is an affordable option that offers a variety of key benefits that go beyond putting an anxious dog at ease. Consider these benefits when deciding if our doggy daycare makes sense for your family.
Productivity- Even if you do not have to head home a couple of times a day to check on your dog, you may have them on your mind, which can diminish your productivity at your job. Some bosses are understanding and some are not, but being able to do your best will generally enhance your career regardless.
Save Money- Since our doggy daycare is affordable, you could easily save money by not having to make repairs or replace things that your dog may have damaged because they were bored, lonely, or scared.
Socialization- When your dog has been around other dogs more frequently, they are often better at getting along with their siblings, neighborhood dogs, and even people.
Demeanor- Your dog will get plenty of exercise while at doggy daycare, which can make improve their demeanor at home because they've spent the energy that they wouldn't have been able to if they were home alone all day.
Commute Time- It is always nice to have someone to communicate with when you are on your commute to and from work – why not let it be your dog? That extra bonding time with them could make you closer, too!
Because the dogs in our doggy daycare may come into contact with other pets on site, we have a firm policy about vaccinations and other health concerns. We require veterinary records before booking, showing that at least two weeks prior, your dog has had their rabies, DHPP, and Bordetella vaccines and has had their annual fecal examination. We also recommend that your pet be on flea/tick and heartworm prevention and be spayed or neutered.
If you have any questions about our doggie daycare for those in the Mocksville, North Carolina area, don't hesitate to contact us. We recommend arranging for daycare well in advance so that we can confirm availability and get the paperwork processed.
---