Our boarding kennel is the ideal place for overnight stays.
If you have been looking for a boarding kennel that will give your beloved dog the care and attention they need, you'll be happy to learn that Godbey Creek Canine Rescue is now open for boarding! Our boarding kennel provides separate amenities from our rescue dogs and is designed to provide overnight boarding for dogs.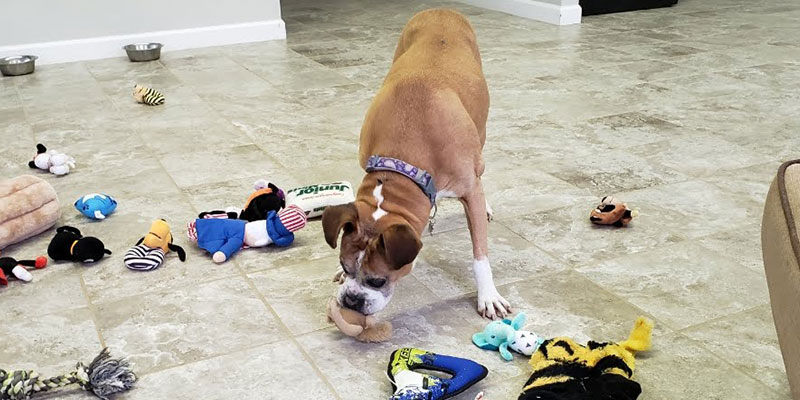 You can have peace of mind your dog is safe and well cared-for without creating a strain on your household budget. Profits of our boarding kennel are donated to our rescue operation so that we can save more homeless and abandoned dogs in the Mocksville, North Carolina area.
Key Situations in Which Our Boarding Kennel is the Optimal Solution
At Godbey Creek Canine Rescue, our boarding kennel is the optimal solution for a variety of situations that you could face when you have one or more furry family members in your Mocksville, North Carolina home. We understand that you want what is best for your dog(s), but you can't always be the one there for them. Here are some key situations in which you might want to consider our boarding kennel for an overnight or daytime visit.
Extended Schedule- Your boss just told you that it is "all hands on deck" for the next few days, and that means no chance to run home to care for your dog. You'll be putting in long hours, so taking advantage of our boarding kennel gives you one less thing to distract you from meeting your deadline.
Family Vacation- There are some vacations that aren't conducive to taking along your dog. You might have a long flight, for example, or there may be some tourist spots you want to see that don't allow dogs. Your dog might just enjoy having a bit of their own vacation by staying at our boarding kennel for a change of pace.
Business Trip- You might have a dog that does well in the car or even on a flight, but if you need to travel for business, it is unlikely your dog can join you when you attend meetings.
Our boarding kennel has several spacious doggie pastures that your dog will enjoy during several different supervised play times throughout the day. This is a great way to help them stay healthy and happy and receive the attention they deserve. In order to protect our boarding dogs' health, we also require that all dogs staying at our boarding kennel be up to date on their vaccinations. We require veterinary records before booking that provide proof of rabies, DHPP, and Bordetella vaccinations at least two weeks before their visit, and they must have had an annual fecal exam. We also recommend that your pet be up to date on flea/tick prevention and heartworm prevention and have been spayed/neutered.
We recommend arranging visits at our boarding kennel well in advance to assure there is availability when you need it and to get the necessary paperwork processed. Contact us today with any questions you may have. We look forward to meeting you and your dog!
---
At Godbey Creek Canine Rescue, our boarding kennel proudly serves residents of Mocksville, Advance, Clemmons, Mooresville, Statesville, and Winston-Salem, North Carolina.