Dog boarding will feel like a vacation for your dog!
Godbey Creek Canine Rescue is very excited that we are now open for dog boarding! Our boarding amenities are separate from our rescued pets and include spacious doggie pastures for playtime throughout the day.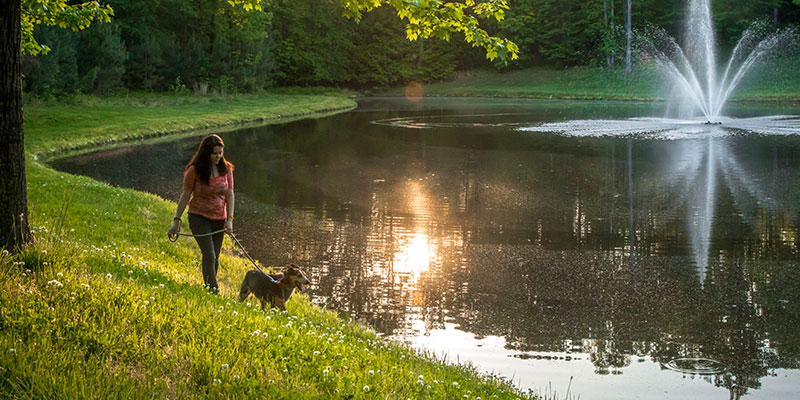 Whether your dog was adopted from Godbey Creek or came to you by other means, they are welcome to board with us as long as they are current on rabies, DHPP, and Bordetella vaccinations and have had their annual fecal examination. We also recommend that your dog be up to date on flea/tick preventative and heartworm prevention. We do require that you provide us with their veterinary records in advance. This ensures that all dogs in our care are healthy and do not pose a risk to other dogs during their stay. We recommend booking dog boarding well in advance so you can be confident a space is available and all paperwork has been completed and records verified.
The income from our dog boarding fees are used as donations to our rescue efforts so that we can save more abandoned and homeless dogs in the Mocksville, North Carolina area.
Benefits of Dog Boarding When Vacationing
At Godbey Creek Canine Rescue, we are proud to be able to offer dog boarding at our Mocksville, North Carolina facility. We recognize that many families struggle with how to care for their dogs when they go on vacation, so we decided to offer dog boarding as the ideal solution. There are many benefits involved with using a dog boarding facility when vacationing.
No Limitations- If you take your dog(s) with you, there are limitations as to where you can go, where you can stay, and what activities you can take part in. Rather than be forced to do takeout meals in your dog-friendly hotel room, let us care for your dog so you can do whatever you'd like on your vacation.
No Worries- It can be difficult to enjoy your vacation if you are unsure about how well a friend or family member is caring for your dog. With our dog boarding services, you can be confident that your dog will be enjoying their own vacation so you can do the same.
No Transportation Concerns- Road trips can make great vacations, but if you want to fly with your dog, it isn't the easiest task to accomplish. Airlines only allow a limited number of dogs on a flight, and there are several regulations you'll have to meet. Putting your dog into cargo can be scary, too, as problems can occur. Your dog will be happier and safer with us in our secure dog boarding facility.
Our boarding facility offers lots of fun and TLC for your pet.
We'll take great care of your pet while you're away!
We're excited to see your dog at our boarding facility soon!
Mariam goes above and beyond to rescue those in need.
"Mariam (founder of Godbey Creek Canine Rescue) is one of the most compassionate people I have ever met. Her concern for our furry friends is apparent, and she lives a self-sacrificing life to go above and beyond to rescue those in need."
★★★★★ Rexypower 1
---
At Godbey Creek Canine Rescue, we offer dog boarding services for residents of Mocksville, Advance, Clemmons, Mooresville, Statesville, and Winston-Salem, North Carolina.