We provide a safe and comfortable boarding experience.
There are times when you need to be away from your pet. Whether you are going on a business trip or need to get some things done around the home, we understand you might need someone who can safely and responsibly care for your dog when you cannot. Finding quality boarding is a challenge for every dog owner, and our team here at Godbey Creek Canine Rescue wants to help assure you that our boarding is paws-itively wonderful for your furry friends in the Winston-Salem, North Carolina area!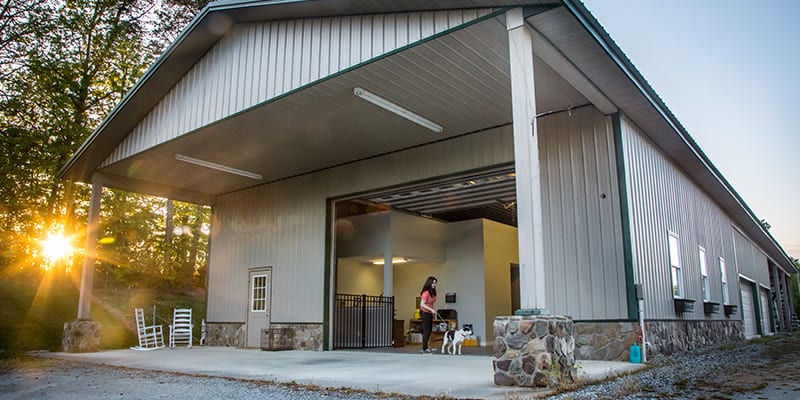 When you come to our facility for boarding, one of the first things you will notice its size. Located on 52-acres, your pooch will love running and enjoying the scenery. We have a well-maintained pond, trees, and several fenced areas that will let your pet run and play with dogs of the same energy level. If your pup prefers a little one-on-one or needs some extra attention, we can provide that for you as well. Because we want to provide your dog with a greatly needed energy release, we allow your pooch to run and play outdoors in the many enrichment areas whenever weather permits.
We are located conveniently off I-40 between exits 168 and 162. On your way to the airport or other points south or west, you can leave I-40 at exit 168, drive 3 miles parallel to I-40, drop off your pet, and continue on your journey in minutes, getting back on I-40 at exit 162. It will add less than 20 minutes to your trip (depending on how long it takes to say goodbye to your dog).
Our boarding facility is one that helps to reinforce positive pack behaviors and other enjoyable enrichment activities for your canine friend. We would love the opportunity to spend time with your pet while you are away. And, in addition to feeling good about the care your dog will receive while you are away, you can take pleasure knowing that you are making a difference for rescue dogs. The income from our boarding kennel helps provide financial means to sustain our dog rescue mission.
Please contact us today if you have questions or to begin setting up boarding with us in the safest and most enjoyable way possible for your dog.
---
At Godbey Creek Canine Rescue, we offer canine boarding services for residents of Mocksville, Advance, Clemmons, Mooresville, Statesville, and Winston-Salem, North Carolina.