Our spacious boarding facilities and experienced staff can provide everything your dog needs to thrive while you are away.
Here at Godbey Creek Canine Rescue, we know you want to take the best possible care of your dog. An important part of taking care of any pet is making proper arrangements for them during times when you are away from home. If you are planning a vacation or other trip, you can bring your pet to our 52-acre boarding facility while you are away.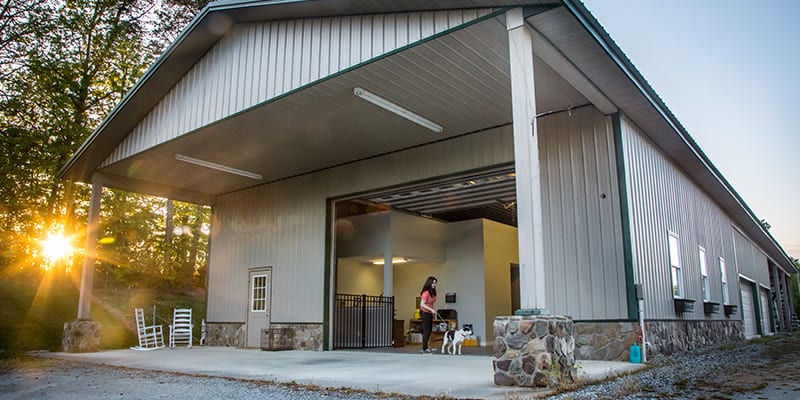 We are located conveniently just off I-40. If your trip takes you westbound on I-40 on your way to the airport ot other points west or south, you can use exit 168 on I-40 to get to our facility, drop off your pet, and be on your way to exit 162 on I-40 to continue to your destination. It will add less than 20 minutes to your trip (depending on how long it takes to say goodbye to your dog).
Our boarding facility at Godbey Creek Canine Rescue is truly a cut above the rest. Surrounded by hardwoods and complete with a pond and fountain, our facility offers a wealth of space and natural beauty that you won't find anywhere else. Our kennel facilities are bright and spotless, and we maintain several fenced-in dog pastures where your pet can enjoy one-one-one playtime with our experienced staff. Barring inclement weather, your dog will get to spend time outdoors every day, enjoying our pastures, open air kennels, and walking paths.
The boarding facilities here at Godbey Creek Canine Rescue help us financially support our rescue mission. By boarding your pet here while you travel, you will not only be giving your dog the best possible care, but you will also be helping us to continue to rehabilitate other dogs and find them forever homes. We are proud to serve the Clemmons, North Carolina area, and we want to continue to expand our family of pet owners and adopters, as well as give all of our resident dogs the love and care they deserve. If you need boarding facilities for your dog, call our team today to learn more about how we can help.
---
At Godbey Creek Canine Rescue, we offer canine boarding services for residents of Mocksville, Advance, Clemmons, Mooresville, Statesville, and Winston-Salem, North Carolina.
Similar Services We Offer: