From time to time we have puppies for adoption, so feel free to check with us on a regular basis if that is something you are interested in.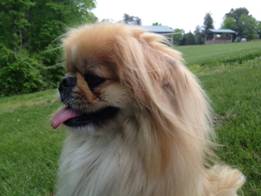 What entails the right rescue pet for the right owner isn't as simple as it might seem. At Godbey Creek Canine Rescue, we take roughly 30 days getting to know our rescue dogs. We give them plenty of one-on-one time as we evaluate their behavior and socialize them. They also spend time in a home environment so we can have a firm understanding of the forever home they are best suited for.
We may not spend 30 days getting to know you, but we do require that you complete our adoption application and we check out your references and veterinarian contact prior to approving an adoption. This process pertains to whether you wish to adopt a senior dog, adult dog or are holding out for the next time we have puppies for adoption.
We do not always have puppies for adoption, and it is actually somewhat rare, but that shouldn't stop you from checking back often if your family has its heart set on raising a dog from a puppy age. Puppies do take a lot more time commitment and effort, but they are definitely worth it. If you do happen to notice puppies for adoption on our website, we recommend stopping by right away. We cannot guarantee that specific animals listed on our website will still be available by the time you visit, and we are unable to hold animals by phone, fax, or email.
Feel free to call us to see if we have any puppies for adoption or if you would like to view other dogs that we have available.
---
At Godbey Creek Canine Rescue, we offer puppies for adoption to residents of Mocksville, Advance, Clemmons, Mooresville, Statesville, and Winston-Salem, North Carolina.