We are your best option when you are looking for dogs for adoption.
If you have ever gone to a traditional county animal shelter and walked down a hallway peering into kennels at the dogs for adoption, it probably broke your heart to see the lonely and scared faces. Here at Godbey Creek Canine Rescue, we set out to be a different type of shelter – a place you can see rescue dogs happy, content, and ready to love a new family.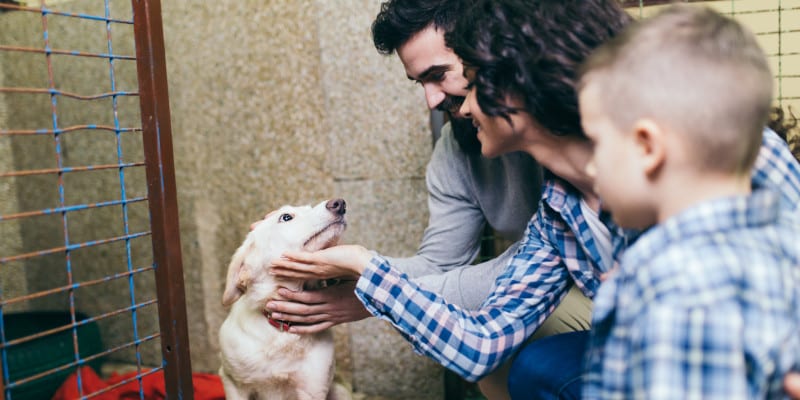 Our rescue dogs enjoy roughly 30 days of loving attention, and also spend time in a home environment getting 1:1 house training. They receive roughly 8 hours a day outdoors, weather permitting, rather than being confined to indoor kennels 24 hours a day. When you come to us to see our dogs for adoption, you will see the difference this makes. We offer a spacious physical location that not only gives you time to spend with the dogs for adoption, but also allows you to bring your current pets to see how they will interact. We also offer a foster-to-adopt process so you can evaluate a dog in your Advance, North Carolina home before committing to adoption. In addition, you are always allowed to bring a dog back if it is not a good match.
Our dogs for adoption have all been spayed/neutered, vaccinated, microchipped, and dewormed, and are heartworm negative and on flea/tick and heartworm prevention. They have been evaluated by a licensed veterinarian and our volunteers and staff have provided leash, crate, and house training so they are ready to join your family.
If you are interested in learning about our dogs for adoption or would like to be a volunteer, don't hesitate to contact us or come to see us at our animal shelter.
---
At Godbey Creek Canine Rescue, we offer dogs for adoption to residents of Mocksville, Advance, Clemmons, Mooresville, Statesville, and Winston-Salem, North Carolina.